You cannot add "Crazy Fish Round Bend Joint Hook - Size 14 (10pcs)" to the basket because the product is out of stock.
VMC 7266 Saltwater Inline Hook – Size 5/0 (4pcs)
£5.49
11 in stock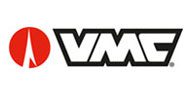 The Saltwater Inline single hook from VMC is designed to replace trebles on crankbaits, jerkbaits, spoons etc. Simply remove the treble hook from your lure and attach the single to the existing split ring. The large 'inline' eye on these hooks ensures that the point sits correctly, either up or down. Made from forged, Hi Carbon steel for excellent strength, these hooks have an extra wide gape and chemically sharpened, ground, needle point to increase hook ups. Featuring a tinned finish, which provides excellent rust resistance in saltwater. 4pcs per pack.
Size: 5/0
Length (measured from eye to bend): 38mm
Width of gape:  21mm
Model Ref: 7266