You cannot add "Big Bite 3.3" Swimming Jerk Minnow - Alewife (10pcs)" to the basket because the product is out of stock.
Relax 5″ Kopyto Shad – Orange Glitter/Black Back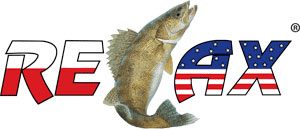 £1.49
11 in stock
The Relax Kopyto Shad has a fantastic swimming action, the segmented body and large paddle tail ensure that it works efficiently at any speed. The Kopyto shad has earned a great reputation as a consistent fish catcher, it offers the perfect combination of supple but durable soft plastic. These superbly designed lures will tempt pike, zander and a wide variety of saltwater predators. This size works well with a size 6/0 or 7/0 jig head. Made in the USA, packaged individually.
Length: 5″ (12.7cm)
Weight: 20g
Colour: Orange Glitter/Black Back (see photo)
Colour Ref: S074